February 2022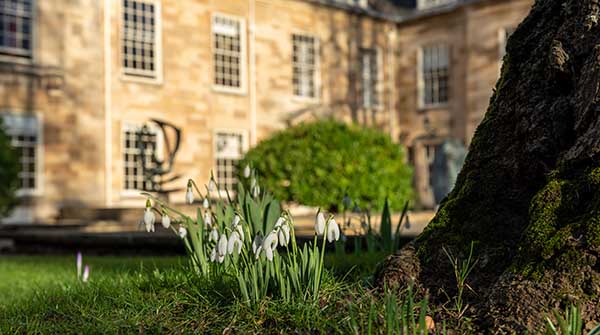 'As the crocuses and snowdrops awaken in Holywell Manor, many graduate students are using the final months before exams to enjoy the busy social scene of the MCR. A highlight was Burns Night, complete with bagpipes and a ceilidh in Hall - a raging success, despite the carnage ensuing from inexperienced ceilidh goers with a liberal supply of whisky. Meanwhile the Praefectus' Seminars showcasing the diverse work of Balliol Fellows (from the challenges of studying Dante to the interaction between seals and subsistence fishermen in South America) have enriched the MCR's academic life, and for me offered an enjoyable escape from the daily grind of a physics DPhil.'
Dominic Dootson (2019, DPhil Astrophysics), MCR President
Balliol launches Discovery, a two-year virtual sustained-contact programme for academically able 14-16-year-olds who will take part in virtual academic enrichment sessions after school.
Jason Lotay (Professor of Pure Mathematics and Tutorial Fellow in Mathematics) has been selected for the role of the Chancellor's Professor at MSRI at the University of California Berkeley.
Students have been enjoying the newly reopened Lindsay Bar and Pantry, both of which had been closed by damp, lack of ventilation, wear and tear, and the pandemic.
Bingham Early Career Fellow Nick Dickinson is hosting 'Efficient Secrets', a new podcast about constitutions from the Oxford Constitutional Studies Forum.
In addition to honours listed in last month's e-News: Adrian Bird (1988), Director General, Foreign, Commonwealth and Development Office, has been made a Companion of the Order of the Bath (CB) for services to British foreign policy.
Richard Ovenden, Professorial Fellow of Balliol and Bodley's Librarian, has been appointed Head of Gardens, Libraries & Museums (GLAM) at the University of Oxford.
Oxford students have attended reading parties at the Chalet des Anglais on Mont Blanc since 1891. Now Chalet trustee Stephen Golding tells the story of the Chalet's summers and the lives which were shaped there.
It's back! The JCR would love Balliol alumni and friends to join them in Camelot for 1263: Knights of the Square Table - a night of merriment, medieval madness, mysterious music and malevolent monks.
PUBLICATIONS
If you would like us to mention any significant work published this year or last, please send details to Anne Askwith. Previously submitted publications are listed on the alumni publications page.